First of all I have to say to
Lora
,
Laura
,
Mel
,
Chrissy
,
Lisa
and
Meredith
thank you so much for your sweet posts yesterday. I never had an ugly cry going or anything like that but I did tear up a bit. I had no idea that my posts were so loved. Thank y'all so much! It made my day!
I am doing a couple linkups today with a couple of my favorites!
Lora
, from Raising Steppe Sisters. She and I live in the same hood...what what?!?! And
Holly
, my blog mama and one of my bbff that I haven't met yet, and
Jake
, who is an appartent fan of the Razorbacks! Lawd help!
There have been a lot of posts that I enjoyed this week. I love all that I follow and love catching up and hearing about everyone's day. Ok...ok...ok...I am afraid feelings will get hurt if I don't say your post was my favorite! Sorry! My goal as a participant in this linkup is to share posts with some friends I have that you may not know so we can get to know other people. I mean that's what this all about right? Yes. Ok, I will shut-up and type...haha!
1.
Ashley
, from
I Love You More Than Carrots
, made a post this week that made me laugh but also reminded me of how my car can get from time to time. The post is titled "
My Backseat, A Smorgasbord For The Senses
." If you have little kids you'll enjoy this one and her blog!
2. Next up is,
Kate
, from
3 Kids, a Mini Van, and a Mortgage
. Kate is from my hometown and was your typical mommy blogger until one day a little over 2 years ago her middle child, Lucy, was diagnosed with Medullablastoma. You have never seen an entire county come together like ours did for Lucy. There were many times that we all worried about tomorrow. Power of prayer! Lucy turned 7 this week and Kate posted about it! Gives me chills. Happy Birthday, Lucy!
3.
Lindsey
, who is one of my BBFF, wrote a post this week that made my heart ache. Lindsey can post things that make me laugh til I cry. She is going to nursing school and we text about weird nursing stuff a lot. Her post from last weekend really touched my heart...
When your saddest fear comes creeping in-that you never loved me, or her, or anything...
It was from the heart! Loved it!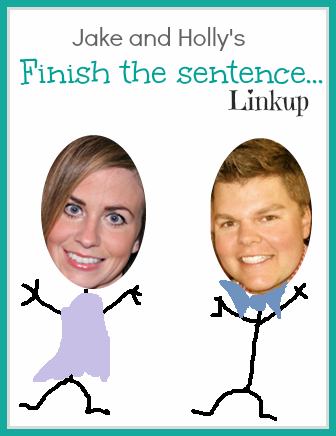 1. People always tell me....that my daughter and I "look just alike." We really do!
2. In the movie based on my life... there's a mom who is constantly discussing weiners and boogah's with her 4 year old. She also sits on the kitchen floor to feed her 18 month old because that's the only way that he will eat. She takes lots of deep breaths to keep from smacking her sassy pre-teen in the mouth! Her husband thanks that if he doesn't get at least 8 hours of sleep, or his "8", that the world is going to positively end! The ending of the movie would be this mom sitting on a beach in Bora Bora with any type of alcholic beverage. She finally gets that trip she wants! It would be a great comedy!
3. Typically, I end up regretting....helping the same people over and over when I say this is going to be the last time or I am not helping them again. What a sucker!
4. I always ask to leave off the....ketchup, mustard, mayo, lettuce, tomato, onion, pickles, etc!! I am a meat, cheese, and bread type of gal!
5. Kim and Kanye really...dont' bother me because I don't know anything about either. Except when Kanye was an ass to Taylor Swift. That was Kanye, right? Oh and when he talked smack about Prez Bush too. That's all I know!
6. My Parents always reminded me...payback is hell.
7. Every single day I.....change a diaper. Whether I am at work or home, I wipe booty!
8. This one time in College..I ended up in a night club in Memphis that traumatized me for the rest of my life!
9. My grossest habit is...not washing my hair like I prob should. I will try and rock 3 day hair like there's no tomorrow!
10. My latest white lie was...everything that I bought was on sale! Ahahahahahaha! Ha! Lol!
11. I know all the words to...the movie Home Alone and Forrest Gump.
12. When I grow up...I want to be a realtor and make multiple appearances on House Hunters!
13. Sexy time is...UNT-UH!! No you didn't! My MIL, SIL, and errrrybody else reads this! Lol! I will save that for a guest post!
14. I will never, ever...drink Cherry Limeade from Sonic mixed with Vodka again! EVER!
15. I think it's hilarious...when people fall! Omg! Isn't that terrible?!?

I hope everyone has a great weekend! I'm off today then will be working 12 hour shifts for the next 3 days! Yay!