I would be a big fat liar if I sat here and told you that I am not sad about how I am not going to St. Louis this weekend to meet some of my best blogger friends. I may or may not be a little crushed.
I'll spare you all the contents of my weekender contract at work. Just know that I only have 4 shifts left that I can take off through January of next year and I do get paid very well to work every weekend.
There's so many friends out there that I want to meet but weekends are no good for me. I am, however, off all week long and I do have flight benefits which means that I can fly standby anywhere for free! Maybe somebody out there could take a day off during the week so I can come see you!
So, let me just tell y'all some of my friends that I am gonna possibly die if I don't meet soon!
Holly
! She was like my third follower. I started following her back when she was chasing her son around as he powdered their living room and she would refer to him as Dennis the Menace. I have to meet her. I just have to. She is really sweet and funny. I have her blog address saved in my favorites on my phone and I read her posts before my feet hit the floor.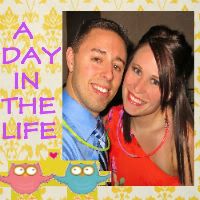 So, there you have it! There's plenty of others that I must meet but my kids are destroying my house. Ha!
Happy Wednesday!